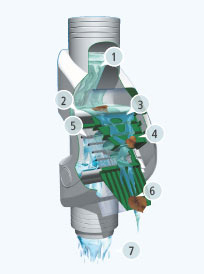 1. The falling rainwater´s energy is attenuated by baffles in the upper filter housing.
2. Rainwater is then calmed in a small sump.
3. Water then weirs over the sump lip, and is distributed evenly across the primary cascade, the first cleaning step.
4. The primary cascade filters out any large or coarse particles, such as leaves and moss.
5. Below and behind the primary cascade is a finer secondary filter.
6. Fine and coarse particles are ejected from the front of the filter.
7. Cleaned rainwater flows out of the filter outlet to a storage tank or to the point of use or disposal system.